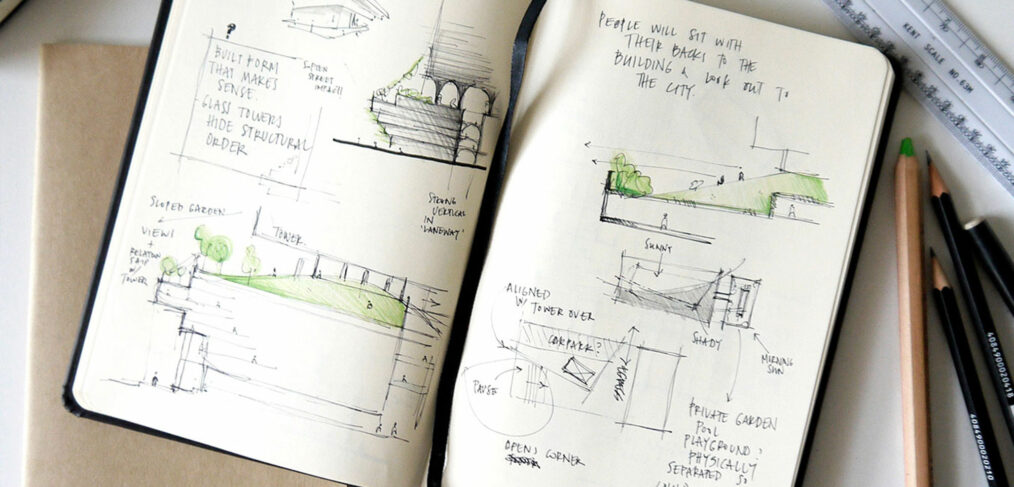 What does a design business need?
The full review of my business and process had been in the back of my mind for quite a while.  I'm sure I'm not the only person who has plenty of good intention but no real way to direct them into something productive.  I'd listen to some podcasts, make notes in my 'Business Development' notebook, maybe do a recommended exercise or two and then get busy …so I would put aside the plans and the notebook for another few months.
I thought I'd quickly catch up you on a three main areas that I had been considering as a way to get clear on what my starting point was.
These are ideas I knew would be part of my overall direction but I had decided on each in isolation, without any overall strategy for implementation.  I'll write about them all separately to go into each of them in more detail as I work through them.
The first is my general process.  Since starting Maike Design I have been tweaking each project and how it is presented to clients.  I arrived at the current general outline of my process through roughly testing what worked and what didn't.  I originally started with the same main phases of Concept Design, Design Development etc that we are all taught, but quickly realised how big these stages are and how much each of them contains.   I now have a set of stages and sub-stages that I am generally happy with.  During my review so far I have started to look at what outcomes I need for each stage to successfully lead into the next and then designing the process from my clients' point of view – what will they need from me to ensure that the project is as enjoyable as possible and to feel like that stage of work has been successfully completed.  My goal is to fully review and thoroughly document my process.
As a way to get myself moving, at the start of this year I did the Myers Briggs and NEO-PIR tests.  I know that not everyone is convinced about the validity of being able to sort personalities into easily definable traits, but for me it was a great way to reflect on my strengths and weaknesses.  It started me thinking about what parts of the practice I want to be responsible for and what I am not best suited for.  (In the interest of making this an open discussion…I was an INFJ and in the NEO-PIR test scored relatively evenly apart from creativity and organisation, apparently an unusual combination, where I was right at the top of the chart).
The results led me to my second idea: automate as many repetitive non-creative tasks as possible to allow for the maximum amount of time to concentrate on the design aspects of my projects – so combine high levels of organization with high levels of creativity.  I also hope it will allow me to be more productive and to scale the business when I'm ready.   Already I am a pretty organised person, I love a good filing structure and have a system of to-do lists that make me feel calm and happy inside.  But I found that for every project I would pull bits and pieces from past templates, start files from scratch and spend time working out or tweaking things that I could have already worked out once, if I'd taken the time.  My goal is to not make any technical decision more than once unless it is in the context of a future process review.  I don't just mean a set of practice standards or letterheads, I mean everything I can possibly capture ahead of time in presentations, notes in schedules, drawings standards and administration tasks.  I want to be able to dedicate as much brain space to producing creative and thoughtful designs as humanly possible.  That and my inner organiser is happily rubbing her hand together at the thought of all the systems and templates I am going to have to implement to make this idea work.
Finally, the third is to approach each project as a chance to exchange ideas and make sure this is key part of my process.  One mistake I made when I first began was overestimating how much most people know about the design and construction process.  I hadn't realised that in some cases their only exposure to a design project is what is shown on reality tv, which is not in fact, reality.  I have decided to build my entire process around providing plentiful and clear information every step of the way, even for the basic stuff that I had previously assumed was known.  I would do everything I can to foster a relationship that encourages questions and where possible pre-empts what they will be.  I believe that the better understanding of the practical and theoretical aspects of design I can pass onto my clients, the more they can be genuinely involved in the project and confidently feel an intellectual and emotional link to the design and the decisions that are being made.  I don't want my work to seem like a superficial, fashionable response, smoke and mirrors, or an outcome that I magically and perhaps randomly arrive at.
All three of these ideas need to work together as well as being part of a larger brand and business strategy.  So, armed with a full notebook and a mess of other ideas, I have decided to get serious about it.